Column The pandemic has changed the way I use computers. For most of the 20 years to 2020, I rarely needed or used more than the browser, email app, email, and a word processor. Other than that, I've made occasional forays into image and/or video editing or PDF preparation tools.
Then the COVID movement restrictions made it nearly impossible to continue my work as a speaker. Events disappeared from my calendar as everyone went home – for two years. But it wasn't long before customers were coming back, asking for something that could be delivered remotely.
By this point, people had already started to suffer from Zoom fatigue — the result of endless hours of squirming under webcam surveillance. I thought more of the same would only leave people less keen on me – a circumstance every speaker tries to avoid.
Instead, I redesigned and redesigned the way I deliver my speeches – making the most of the new normal. With a green screen, a decent camera, lights, and open source software, I converted my home office into a TV studio. As I learned the tools, my speeches became smooth, media-rich live streams it sounded a lot like television – rather than another middle-aged guy who hadn't bothered to dress for the occasion while talking monotonously in front of a webcam. Customers loved it and I ended up with a steady stream of gigs that carried me through the pandemic.
To run my home studio, I bought a sturdy but quiet PC with a powerful graphics card. Everything works fine and I don't see the need to change it. But as we negotiate the transition from pandemic to endemic COVID-19, clients are asking me to speak in person. I won't need my broadcast tools for live events, but if I'm on the road for a while, chances are I'll have to broadcast from a hotel room or coworking space or even a friend's house. The PC driving all this is not portable.
I have a MacBook Pro so I put all my software on it. I tried, only to see the machine thrash and stall under load. I then tried one of the Apple M1 Pro laptops: better, but not good enough. Even the fastest Mac won't do the job for me.
My hunch is that this reflects design decisions built into different operating systems. The software I use for compositing and livestreams – OBS – was, before the pandemic, used almost exclusively by gamers. The game is PC-centric. The tools gamers use to share their crazy skills are never refined on macOS because there's so little demand. This demand makes all the difference in the world when a new class of applications relies on these tools.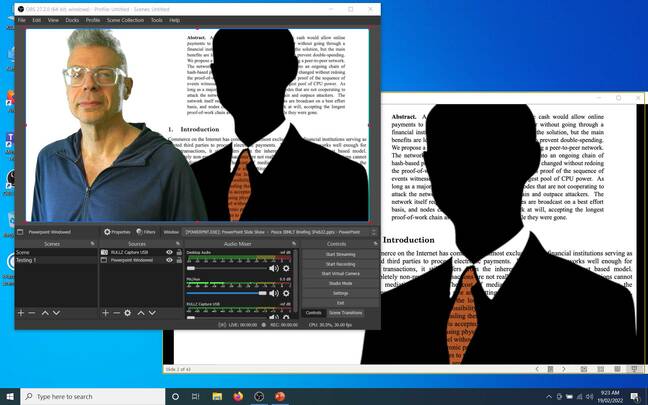 OBS video production software
With the exception of iOS, Apple has always been ambivalent about games and 3D. This ambivalence has left its platform behind in this next evolution of personal computing. As a result, after 20 years of almost fanatical devotion to MacOS, I began to migrate away from the platform. It gets in the way of my creativity – and my ability to earn a living.
In one of my early columns, I predicted that we would never see another round of IT upgrades again – just the replacement of worn-out machines. The pandemic saved personal computing from its long, slow decline because it redefined what we do with these machines. They now allow face-to-face communication – remotely.
Even when we return to the offices, we will have more video conferences on a more regular basis. Personal computers will adapt to this shift to hybrid working by transforming into television production studios.
Windows seems well prepared for this new set of apps, but it looks like Apple missed a trick. Its incredibly profitable focus on mobile computing means it could soon find its personal computers relegated to the most boring office tasks. ®