It seems inevitable that Gateway Studio & Production Services will build a facility in this area. Almost everyone involved has some degree of separation from St. Louis, according to David Haskell, Gateway's president of business development and keynote speaker at the Progress 64 West luncheon on August 26.
Gateway CEO Trey Kerr is from Saint-Louis. The same goes for Ethan Weber, lighting director of the Rolling Stones. And Jesse Sandler, president of Studio Operations, also has a connection in St. Louis.
"The main goal and the dream was to bring the music industry back to St. Louis," Haskell said. "There is a lot of talent here. "
Gateway Studios is proposing to construct a 339,000 square foot facility on a 32 acre campus at 900 Spirit of St. Louis Blvd. be used as a large-scale private touring operation for bands like the Rolling Stones and Kenny Chesney. The facility will include offices, four huge studios – one the size of a football field, a prep room and storage areas.
The hall of the main building will house a museum with the paraphernalia of the music industry. A secure nightclub to be called B Goode Lanes, in honor of St. Louis native Chuck Berry, will host live performances on a 60 by 40 stage. A 7,500 square foot kitchen will also be on. square.
Haskell said Chesterfield stood out as the right home for the project thanks to the infrastructure already in place and the site's proximity to shops, restaurants and hotels.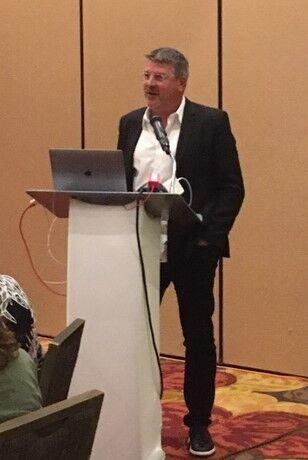 He noted that the only other similar-type production studio in the country is Rock Lititz, located in the middle of farmland in Lancaster County, Pennsylvania. He currently has a 2.5-year waiting list, Haskell said. California studios are 150 years old, and New York would have been too expensive to build a new production studio.
"It's a big, big commitment – $ 100 million," Haskell told local leaders, both business and political, who had gathered for lunch. "There is no facility in the world like this. You can build it from scratch exactly as you want.
According to Haskell, the top four executives at Gateway have 119 years of touring experience. He has over 40 years of experience as a Tour Director, Production Manager, Engineer and Producer, working with some of the biggest names in the industry. He previously served as President of Morris Light and Sound and General Manager of the Alabama Theater.
Besides Haskell, there's Kerr, who has over 20 years of experience as a video director. Gateway's COO, Andy Gerber, has over 20 years of experience in television, film tours and live event productions. Sandler has over 20 years of touring experience.
Although it caters to the music touring sector, the company also intends to develop its interests in television and film and in organizing events for companies.
A 5-storey, 168-room Spirit Hotel with 32 suites will be open to the public and businesses. "It will be akin to a 'corporate Disneyland'," Haskell said. "Guests can arrive at Spirit of St. Louis Airport and be in a suite (within) minutes."
Businesses, he said, will be able to hold annual meetings at the facility and keep everything on campus.
He expects the economic impact on the region to be enormous. The production company, which includes audio, lighting, video and streaming services, is already up and running with 47 employees on board and the studios will hire an additional 118 to 120 people, with an average salary of $ 78,000 per year, did he declare.
Gateway plans to do a feasibility impact study to determine the ripple effect for other businesses such as hotels and restaurants. It is also planned to offer numerous training and educational opportunities, including an internship program.
"We want to bring the people of St. Louis, so that people are excited to come to Missouri," Haskell said.
St. Louis County Council Member Mark Harder (R-District 7), who delivered the keynote address, credits Gateway with creating a new industry that the region does not have today. He noted that Gateway was working with the Missouri Partnership, the St. Louis Economic Development Partnership, the Missouri Department of Economic Development, the City of Chesterfield and the Spirit of St. Louis Airport, to make that dream come true.