The Choteau Public Schools sixth-grade class made their long-awaited outing to the Teton Ski Pass field on February 11 and got an added bonus by participating in a promotional video.
"The ski trip is the conversation between students the whole school year leading up to the day they actually go, and then it's the whole conversation after they've gone skiing," teacher Karen Crawford laughed. . "As you can see, the traditional ski trip for sixth graders is a big deal and it's one the students look forward to. They happened to be shooting a video that day and some students were able to watch and some were involved in the production, which was fun.
Crawford couldn't remember when the school started the annual ski trip (when Teton Pass operated), but she said she knows it dates back to at least 2003 and possibly longer.
"It's a fun way to introduce students to an outdoor activity that some may not have had the opportunity to do or may never have again," Crawford said. This year, she said it was about half and half of students who had skied and hadn't skied before, which is generally about the same in each class. "There are some who have never skied and others who have season passes," she added. Despite the level of skiing experience, each of the students is required to participate in lessons before advancing to ski the slope.
Once the students have finished their lesson and made it to the slope required by the school, they ski in groups accompanied by an adult. Students pay for the ski trip and for those who cannot afford the cost, scholarships are available, Crawford said. "We don't want anyone to miss this fun experience."
There were 24 student participants this year, as well as five CES staff/teachers. Several parents have also participated in the ski trip each year, helping to supervise the students and reduce the number of groups. It's always a popular excursion for parents who like to ski for fun.
Charles Hlavac, owner of Teton Ski Pass Resort for three years and manager of the hill for another six years, is excited about this season which is scheduled to run through April 10.
Hlavac said it was really the first "normal" year he had on the hill as an owner. The first year the season was cut short with the outbreak of the COVID-19 coronavirus which shut down everything in the state and country in early March. "Due to ongoing health concerns and for the safety of our staff and visitors next year we have not opened at all and last year we were open but with limited services and no groups school," he added.
This year, while continuing to exercise health caution, they welcomed back-to-school groups and reopened the lodge. Having school groups has been a blessing and a pleasure for everyone working on the hill, he said.
Hlavac said they offer school trips on Fridays and can accommodate several small groups at a time or a larger group of up to 100 students, depending on the rental needs of the larger group. They limit the number of students to ensure that the instructor to student ratio is five to one, providing each participant with quality time to learn. The cost for students in school groups is $30, about a third of what skiing would normally cost, and includes rental, lesson and lift ticket.
He says he wants to make it affordable and give the opportunity to young people, his future customers, to experience skiing in a positive way.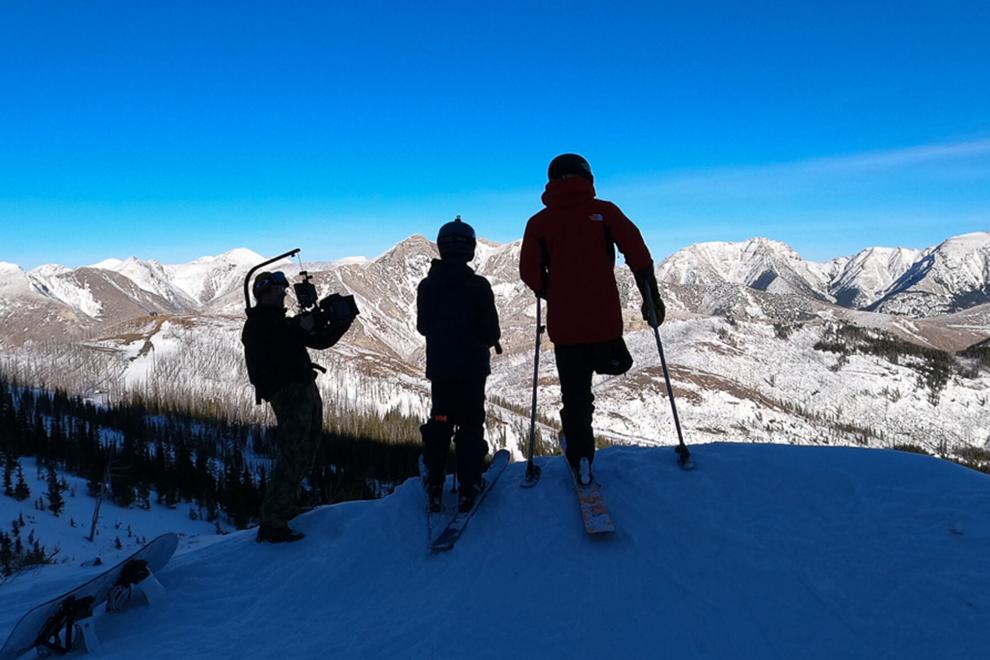 He normally has 25 staff on the hill each day and brings in up to 10 ski and snowboard instructors just to work with school groups, depending on the number of students. "Instructors and staff are key to the success of the school program," Hlavac said. "I appreciate all they do and welcome anyone who wants to work just one day, who wants to share their love of skiing or snowboarding and work just one day a week on the hill."
Even experienced students can take things away from required lessons. "You can always learn something new," he added. Once they finish the lesson, they race up the "bunny hill" making sure they meet certain criteria before they can take off and ski.
There are 40-50 schools in the area that have come over the years to ski Teton Pass. He estimates that this year, 15 to 20 people will benefit from the program. "Having not offered the program for a few years, we are gearing up again and working with schools to get their schedules back on track, if not this year then next," he said. "They just need to call Teton Pass and we'll get them the information." He said it would be ideal if a group could come multiple times for students just starting out. It can be frustrating at first, but with a little practice, students learn quickly, Hlavac said.
Hlavac said skiing is a lifelong sport that those who walk to age 80 or more can enjoy. He sees multi-generational families coming to the hill to ski together.
This year's ski trip for the Choteau class coincided with the filming of a promotional video through the Montana Tourist Board.
The Montana Tourism Board is working on a campaign to promote travel in Montana with national parks, Hlavac said. A film crew from Bozeman was hired to visit ski areas across the state to work on video and take photos of the different areas during the winter for use in publicity and social media.
The video features Vasu Sojitra, an adaptive skier sponsored by clothing company The North Face. Sojitra lost her right leg to a blood infection when she was nine months old. Hlavac said he was an excellent skier and an inspiration.
Rather than letting his disability define him, he always treated his amputation as an opportunity to live his life with determination, courage, strength and grace, adoring his sponsors at The North Face. He learned to walk on a prosthesis, but by the age of 10 Sojitra had had enough of his design flaws. His brother introduced him to skateboarding and then to skiing. He learned to ski on his own because no instructor at the time knew how to teach a skier with one leg. He found ways to adapt his ski kickstands to make off-piste skiing possible. He discovered a passion for human-powered skiing and continued to rig gear to help him excel in mountain sports ranging from trail running to rock climbing to packrafting. By setting ambitious goals and accomplishing what some might consider impossible, he was the first adaptive climber to summit Grand Teton – Sojitra aims to bring the concept of universal access and inclusion to the outside world.
Sojitra now lives in Bozeman, where he runs outdoor activities for people from marginalized backgrounds. He works as Director of Adaptive Sports for Eagle Mount Bozeman, a non-profit organization that provides therapeutic recreation opportunities for people with disabilities and youth with cancer. He is also one of the founding coordinators of Earthtone Outside Montana, an organization that advocates for the visibility of people of color in Montana.
With just a few weeks notice, Hlavac said they were looking for another adapted skier to take part in the filming at Teton Pass. The plans did not materialize, but instead they opted to use a young skier and it turned out that Hlavac's nephew Cru, a skier and sixth grader, would be out skiing that day and could feature in the promotional video. and pictures. A number of other students were also filmed descending the mountain and all happily posed for a group photo. "It was just a little extra bonus for the class this year," Hlavac said.
Hlavac said the weather was perfect with blue skies and no wind for the field trip and for the video shoot. He and the students are excited to see the video.
If you haven't made it to Teton Pass to ski yet this year, Hlavac said there are still five weekends (Friday, Saturday and Sunday) to ski. The snow has been excellent and continues to be abundant. They measured in 24 hours last weekend a total of 18 inches of fresh snow. "Our established base depth has also increased by 18 inches, and we've peaked at five feet, and we're currently sitting at 65 inches," he said.